"Building Companies on Purpose," hosted by Magis President Diane Nettifee, provides a deep dive into purpose for your team to rekindle passion, spark ideas, build skills and renew commitment to taking your company to the next level.
How? Maximizing both purpose AND performance results in a highly passionate and committed workforce that produces profitable outcomes.
Join teams from Great Clips, Bell Bank, Innovize and Anytime Fitness and other strong Twin Cities companies

Outcomes
• Learn skills and tools for improving your culture to drive performance and purpose
• Gain valuable insights into topics that are key to driving purpose and performance
• Learn from companies and teams who are successfully creating high performing workplaces
• Strengthen your team to live your company's purpose in profitable, impactful ways
• Be inspired by leaders and organizations who are achieving purpose and performance
The Schedule
• Rhoda Olsen, CEO Great Clips: Keynote on Great Clips purpose AND performance journey
• Leader panel and discussion: Chuck Runyon, CEO Anytime Fitness
and Julie Peterson Klein, Chief Culture Officer Bell Bank
• Deep dive topics and tools sessions led by authors and experts in their fields
• Emotional Intelligence
• Brain Science for leadership
• Maximizing multigenerational workplaces
• Interactive large group dialogue
• Formal and informal networking and learning opportunities
• Wine and cheese reception following the conference
Companies built on purpose share three key attributes:
1. A clear compelling purpose that guides your vision for success
2. A deep commitment to making a difference by what you do
and who you are
3. An ongoing hunger for learning and growing your people
to drive purpose and performance
Speakers and Guides
Keynote: Rhoda Olsen, CEO of Great Clips
Rhoda Olsen has been associated with Great Clips, Inc. since 1984. During
Ms. Olsen's tenure as President/COO, Great Clips grew from 1,000 salons in 1998 to
more than 4,100 salons across the United States and Canada in 2016. During that
time, Great Clips also grew system revenues four-fold increasing from $200 million
to well over a billion dollars. Today, Great Clips is the world's largest salon brand
with locations in more than 180 markets across North America. Great Clips, Inc.
employees 250 corporate staff.
Olsen used her business acumen and passion to set Great Clips on the road to
success evidenced by more than 49 straight quarters of growth. She is known
for her analytical skills and her keen sense of what people need to be successful.
Leader Panel: Chuck Runyon, Julie Peterson Klein and more
Deep Dive Guides:Â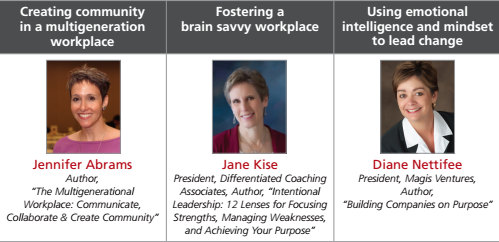 Afternoon large group dialogue: Purpose AND Performance
In creating and developing healthy, sustainable organizations, leaders must be skilled at navigating and leveraging the ongoing tensions of purpose and performance. This session will engage participants in an interactive, large group dialogue to develop leaders and teams in seeing and leveraging insights for integration of purpose and performance as a measure of success.
Thank you to Differentiated Coaching Associates for collaboration on this event.

We look forward to seeing you!