Founder and President
Diane Nettifee, M.T.S/M.A.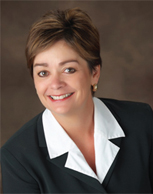 I am at once a business owner and a theologian; a corporate leadership consultant and a spiritual director; a teacher of organizational leadership and a retreat facilitator.
At the crossroads of my life's work is a concept I call Values-Led Leadership, the cornerstone of Magis Ventures. I consider business leadership my calling, not just a career choice. I believe organizations have power to improve the world and my mission is to help organizational leaders make a positive impact on the world through their constituents, employees, customers, suppliers and communities as well as achieve their financial objectives.
I bring my business acumen and theological expertise to designing and teaching courses in the Master of Arts in Organizational Leadership program at St. Catherine University (in St. Paul, MN) such as Values Led Leadership, Work, Meaning and Purpose, and Ethics and Leadership.
Prior to founding Magis Ventures, I built a 25-year career in executive leadership, spiritual direction and teaching. The dual pathways converged early on: I served as vice president of a packaging company, where I led a profitability initiative, and also met with clients as a spiritual director. Additionally, I led retreats, trained other spiritual directors to direct the Exercises of St. Ignatius and worked on staff with the Loyola Center for Spiritual Direction in Minnesota.
I hold a B.A. in marketing and management from the University of Minnesota and a dual M.T.S./M.A. in Spiritual Direction from Weston Jesuit School of Theology in Cambridge, Massachusetts.